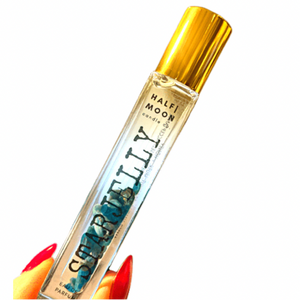 𝚜𝚝𝚊𝚛𝚓𝚎𝚕𝚕𝚢 [𝚗𝚘𝚞𝚗]: 𝚊 𝚕𝚒𝚚𝚞𝚒𝚍 𝚜𝚞𝚋𝚜𝚝𝚊𝚗𝚌𝚎 𝚖𝚊𝚍𝚎 𝚘𝚏 𝚐𝚊𝚕𝚊𝚡𝚢 𝚙𝚊𝚛𝚝𝚒𝚌𝚕𝚎𝚜, 𝚜𝚞𝚐𝚊𝚛 𝚋𝚎𝚊𝚖𝚜, 𝚊𝚗𝚍 𝚗𝚘𝚗-𝚏𝚞𝚌𝚔𝚎𝚛𝚢.
𝙱𝚊𝚝𝚌𝚑: 𝟸𝟸𝟸𝟷𝟿
With creamy notes of warm vanilla, and honey maple; rounded out with a base of coconut, ambergris and sandalwood, this NEW roll on fragrance is sure to have you feeling like a million bucks and smelling even better.
Infused with vibrant blue apatite to boost self-confidence and self-acceptance.
10 ml | hand poured | vegan and cruelty free 
these glass bottles come in little chic black suede bags perfect for storing your perfume.