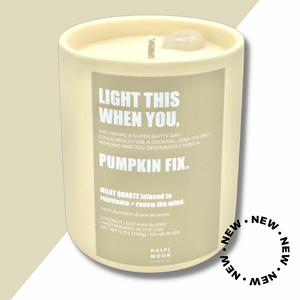 Introducing the first of our new BIG BOY collection:
LIGHT THIS [12 oz] 
This delicious fall addition to the HMC line is here just in time for the cooler temps & everyone's favorite beanie weather season. 
Fragranced with warm pumpkin dulce de leche + infused with milky quartz to rejuvenate and renew the mind.
All of our hand poured candles are clean burning and made with 100% natural soy and coconut wax. 


12 oz ceramic tumbler 
60 HR Burn Time 

➕Keep your crystal inside of your candle as it burns, the energy of the stone will radiate around you. 

➕After your candle has burned through, remove the crystal to keep with you or place in your space of meditation.

➕To maximize scent throw - we recommend burning your candle for a minimum of 2 hours for the first burn and an hour or more for every other burn. This will also help the candle to burn evenly.