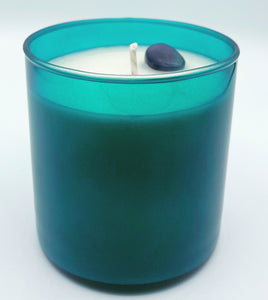 Inspired by sea glass, our new GYPSY BLUE will fill your space with our best selling fragrance GYPSY WATER No. 05 and bring the vibes to those craving the sea. 
A fragrance and essential oil blend that reveals notes of candied citrus fruit and black currant and infused with Rainbow Fluorite  to purify, brighten, and uplift. 

All of our hand poured candles are clean burning and made with a special blend of apricot and coconut wax. 


10 oz Jar
50 HR Burn Time


➕Keep your crystal inside of your candle as it burns, the energy of the stone will radiate around you. 

➕After your candle has burned through, remove the crystal to keep with you or place in your space of meditation.

➕To maximize scent throw - we recommend burning your candle for a minimum of 2 hours for the first burn and an hour or more for every other burn. This will also help the candle to burn evenly