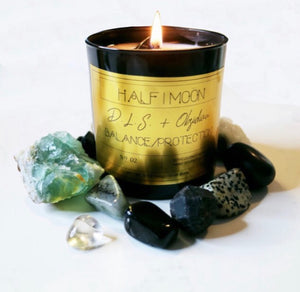 BALANCE | PROTECTION



The dark, smokey, and masculine scented candle that brings the Rock and Roll to our signature collection.

A fragrance and essential oil blend that reveals notes of rich tobacco and vetiver for a unique and distinctive aroma. 

DLS is infused with Obsidian for balance and protection from negative energy.

All of our hand poured candles are clean burning and made with 100% natural soy and coconut wax. 

 
10 oz Jar + Bronze Lid 
50 HR Burn Time 


➕Keep your crystal inside of your candle as it burns, the energy of the stone will radiate around you. 

➕After your candle has burned through, remove the crystal to keep with you or place in your space of 
meditation.

➕To maximize scent throw - we recommend burning your candle for a minimum of 2 hours for the first burn and an hour or more for every other burn. This will also help the candle to burn evenly. 

Here at HALF/MӪӪN we use a special wax layering technique to maximize scent throw in our candles while burning. Our moon lovers will enjoy a powerful fragrance burst once the candle hits the 2nd layer of wax. 
*Layers are visible in our clear glass tumblers but we prefer this as it adds to the uniqueness of our candles and so our moon lovers can see when they can expect their fragrance burst. xx