Hand poured crystal candles by Erica Russo
Meet the Maker ✰✰✰
HALF|MOON Candle Co. is your one-stop shop for handmade Crystal Candles, made with all natural soy and coconut wax and blended with the perfect combination of essential oils. 
Each candle is infused with a special crystal, to help bring in the energy you want to attract and to deflect any negative energy you need to remove from your life. 
HALF|MOON Candle Co. was founded in April 2018 by Erica Russo, a passionate and creative entrepreneur based in Chicago, IL. Erica began to first sell her handmade candles on Etsy and at art and music festivals in the Chicagoland area (visit her Etsy storefront here) and the business quickly grew to amazing heights. As a self-proclaimed Willy Wonka of candles, Erica continues to cook up new and inventive fragrance/crystal combinations to satisfy both the senses and the soul.
"As a dreamer of dreams, we will continue to work on fulfilling each one, big and small - until our products are available all around the world." 
You can now find HALF|MOON Candles in 15 retail locations, on our online store, on Etsy.com, in multiple gift/subscription boxes (including Clarity Subscription Box , Ever Ambitious Subscription Box,  Good Juu Juu Box) and at Art & Music Festivals in the Chicago area.  
How do crystals work?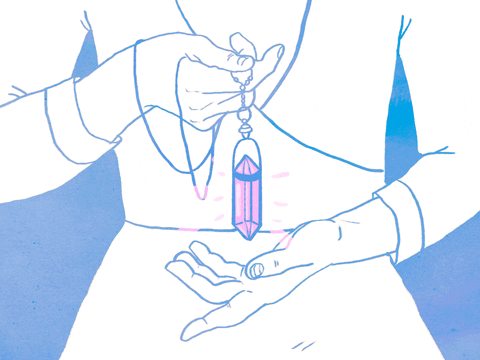 Crystals emit a powerful frequency of energy vibration that combined with our own energy can positively enhance our mood, help manifest inner peace, and bring goals and intentions to fruition.
Historically, crystals have been used for physical and spiritual healing, to awaken clairvoyance, and to sharpen a specific intention.
Each stone has its own character and specific energy properties. They channel energies by absorbing and catalyzing the flow of our physical and emotional being, and the positive energies resonate through us.
+ Before lighting - choose your intention for the candle.
+ Keep crystal inside of candle as it burns - the wax will become infused with the energy of the stone and radiate around you.
+ After your candle has burned through, remove the crystal to carry with you or place in your space of meditation.
+ For maximum scent throw - we recommend burning your candle for a minimum of 2 hours for the first burn, and 1-2 hours each time after.
To learn more about Halfmoon Candle Company, follow @halfmoon_candles on Instagram!