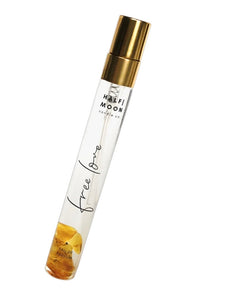 IYKYK …
We loved this candle so much we just knew we had to turn it into a fragrance, and not just any fragrance; our first spray.
Crystal infused and all, this travel sized perfume is perfect to take on the go and these babies are potent. One spritz is all you need for HMC fragrance all day. 
Fragranced with our favorite oils including lavender, amber and patchouli and infused with amber for peace, love, and the most positive vibes.
Top Notes: Citrus, including Orange and Lemon 
Middle Notes:  Jasmine and Lilac
Bottom Notes: Amber and Musk
10 ml | hand poured | vegan and cruelty free 
these glass bottles come in little chic black suede bags perfect for storing your perfume.